As the opioid crisis in the United States continues to grow, healthcare professionals across the country are striving for ways to provide patients with safe, effective and empathetic pain management while employing judicious prescribing of opioids tailored for the anticipated level and duration of pain. One group of providers at the forefront of the fight against opioid misuse is certified registered nurse anesthetists (CRNAs). These anesthesia and pain management experts employ a model for acute and chronic pain management that can be integrated into any community across the country.
CRNAs Answer Surgeon General's Call
As a primary point of contact for patients receiving anesthesia, procedural sedation, and pain management services, CRNAs are answering the Surgeon General's recent call to end the opioid crisis with a holistic approach to pain management and opioid prescribing, offering patients greater transparency, understanding and engagement in their own care. The professional association for CRNAs, the American Association of Nurse Anesthetists (AANA), recently published an official position statement, titled "A Holistic Approach to Pain Management: Integrated, Multimodal, and Interdisciplinary Treatment," as the foundation for a holistic approach to pain management.
Nearly 2 million people in America suffer from prescription opioid use disorder. The AANA is supporting CRNAs to be innovators in modernizing pain management through the development of practice guidelines, substance use disorder resources, continuing education offerings, acute and chronic pain fellowships, and policy advocacy activities in collaboration with other healthcare and governmental agencies.
Key to success in this initiative is for CRNAs to focus on educating and encouraging their patients to play an active role in their pain management plan by talking with their healthcare team, informing the team of any concerns they have, and asking questions to ensure that everyone is on the same page.
Holistic Approach to Pain Management
Acute and chronic pain are best treated and managed by an interdisciplinary team of healthcare professionals that actively engages the patient in the diagnosis and management of his or her pain for improved well-being, functionality, and quality of life. Nurse anesthetists are well-positioned as members of an interdisciplinary team that provides holistic, multimodal pain management for patients of all ages, across the continuum of pain, in all clinical settings (e.g., hospitals, ambulatory surgical centers, offices and pain management clinics), and in the home.
Combining their expertise in anesthesia care and related services with their nursing backgrounds, CRNAs have the education, training, and philosophical approach to effectively care for the whole patient, ensuring the patient's physical, emotional and mental well-being.
"Patient-centered pain management offers the engaged patient greater transparency and understanding to participate in their care for improved quality of life, safety, satisfaction and outcomes," said Lynn Reede, DNP, MBA, CRNA, FNAP, senior director of professional practice for AANA.
CRNAs can collaborate with the interdisciplinary team to integrate multimodal pain management as an element of enhanced recovery after surgery (ERAS) protocols to quickly return patients to their pre-procedure status and shorten overall hospital length of stay.
"Multimodal pain management begins at home for the patient, carries through the procedure, and continues back at home," said Reede. "The process includes the use of opioid-sparing techniques such as regional anesthesia, peripheral nerve blocks, non-opioid pharmacologic measures, and non-pharmacologic approaches such as guided imagery. By reducing the amount of opioid medications introduced early in a patient's care, the better the chance that dependence on opioids won't develop during recovery."
According to Reede, an interdisciplinary, multimodal pain management strategy has been shown to reduce intraoperative opioid administration. The AANA is partnering with academia to provide a subspecialty, post-graduate education for CRNAs to become specialists that focus on acute and chronic pain management. These accredited fellowship programs will help fill the gap in specialty pain management providers, and will focus on multimodal, holistic, patient-centric approaches to pain management.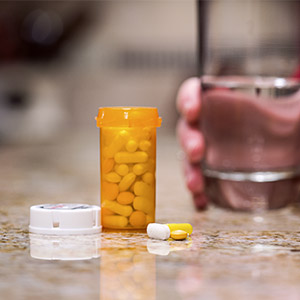 Patient-Provider Partnerships Necessary
As industry leaders in pain management, CRNAs work proactively to decrease the risk of substance abuse through a uniquely collaborative, patient-specific approach to healthcare and pain management that combines appropriate opioid analgesics and non-opioid techniques, ultimately helping prevent the over-prescription of opioids that may contribute to substance use disorder, drug overdose and death.
"Using a shared decision-making model and a robust communications plan, CRNAs facilitate collaborative care with their patients and the periprocedure team through planning and discussion of the risks and benefits of the pain management plan," said Reede. This approach encourages patients to play an active role in their healthcare by expressing their preferences and values to establish realistic goals for well-being and quality of life.[1]
During the dialogue between the patient, family members and providers, it is important that the following topics be discussed in a forthright manner:
• the kind of discomfort that is anticipated during and after the procedure (or that the patient is experiencing);
• the patient's lifestyle and how it is or may be affected;
• the patient's family background and ethnicity;
• the patient's past experience with pain medications; and
• the patient's current medications or illicit drug use.
New Threats
Despite the ongoing efforts of healthcare professionals, drug companies, policymakers, law enforcement officials, and others to address the opioid crisis, new threats routinely arise to make the situation ever-more deadly for patients and providers alike. The latest example: the popular and deadly street drug carfentanil (and other fentanyl-related compounds).
Carfentanil is a synthetic opioid used to tranquilize large mammals. Its potency creates a substantial risk of rapid, significant, accidental exposure from transdermal contact and inhalation-with the potential for an accidental overdose to unsuspecting first responders, healthcare professionals, good Samaritans, and others. Healthcare providers' own lives are at risk of accidental exposure to a carfentanil overdose as they provide care to an overdose victim in the emergency room, operating room, obstetric department, or while responding to an arrest.
The AANA encourages nurse anesthetists, healthcare professionals, and others providing care for patients who may have overdosed on carfentanil to be cognizant of their personal safety and vigilant in avoiding contact with the patient as the drug may be present on them. Caution must be taken not to come into contact with the patient's skin or breathe too close to the patient without wearing a mask. Anyone who believes they may have encountered carfentanil should not handle the powdered drug, and should safely isolate the drug and contact law enforcement.
Carfentanil is easily disguised as (or disguised in) heroin or cocaine and is 100 times more potent than fentanyl, further raising the risk of overdose. Naloxone can be used in larger-than-anticipated doses to reverse the effects of carfentanil, but there are no guarantees. Healthcare providers may also consider following the lead of veterinarians by wearing an impervious gown, gloves and mask when working with carfentanil.
The Drug Enforcement Administration (DEA) has issued a carfentanil warning to encourage all first responders, medical personnel, and members of the public to follow these safety precautions when encountering a suspected carfentanil overdose:
Be aware of the signs and symptoms of carfentanil exposure.
Exercise extreme caution.
Seek immediate medical attention.
Recognize that carfentanil can resemble powdered cocaine or heroin.
Be ready to administer multiple doses of naloxone.
Urgent Action Needed
With new drugs such as carfentanil confounding the opioid crisis even further, the urgency of the work being done by CRNAs and other healthcare professionals to reduce opioid dependency can't be overestimated. Strategies such as community education for awareness of the risks of opioids and the holistic approach to pain management employed by CRNAs are critical to helping the healthcare community, and society as a whole, reduce reliance on highly addictive opioid drugs and turn this crisis into a more manageable problem. Please visit the AANA's opioid crisis webpage at www.aana.com/OpioidCrisis for additional information and resources.
Christopher Bettin is the senior director of public relations and scholarly publications for the American Association of Nurse Anesthetists (AANA), which represents more than 50,000 nurse anesthetists. He has served the AANA for more than 18 years.
References
1. National Pain Strategy: A Comprehensive Population Health-Level Strategy for Pain. The Interagency Pain Research Coordinating Committee, National Institutes of Health, 2016. https://iprcc.nih.gov/docs/DraftHHSNationalPainStrategy.pdf